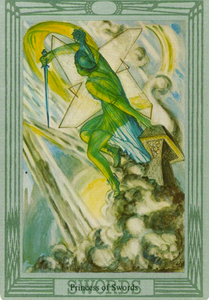 Advanced Arts
Regular price $666.66 Sale
The purpose of this training is to guide the graduated apprentice towards specialization in their skills of the craft. A rounded training is helpful, but to become God-Like in magick is to become Particular with your Will, and this creates an unique garden around you. 
Taking this course requires completion of the apprenticeship, due to the baseline information required to grasp and use the new techniques, applications, and concepts. 
Do you seek mastery of the Craft? Limitless depth of sight into eternity, command at will manifestation, and a limitless hunger and potential for growth and development? With 6 hours of consultation time and email correspondence through the journey, you will quickly ascend through the ranks of the ethereal hierarchy towards your highest and best version.
The purpose of this service is to train the aspiring magus towards their true will. All aspirants have their own path and will be guided accordingly. Through tarot readings, astrology readings, and training in skills such as divination, spell casting, enchanting, manifestation, summoning, and rituals your true gifts will be restored and so will your memory of who you truly are.
The aspirant has 6 hours of time to schedule with Seldom Dreams over the course of 2-3 months. Sessions can be booked at 30 or 60 minutes at a time at calendly.com/seldomdreams . These do not have to be scheduled all at once.
After purchase, the aspirant should email avery@seldomdreams.com their intentions for this apprenticeship. If the aspirant does not yet know their path, Seldom Dreams will help with that revelation during the apprenticeship. Curriculum is flexible and personalized.
If you have any questions, email avery@seldomdreams.com.
Legal disclaimer: Seldom Dreams is a spiritual practice and does not replace medical, legal, financial, or therapeutic counseling. Seldom Dreams is not responsible for decisions made by the customer after the reading.
No shows will not be refunded and will be assumed if 10 minutes late. Rescheduling must be requested at least 5 hours before the scheduled reading for a new appointment. If you are late, a full session may not be guaranteed if another appointment is after you. Please be ready 5 minutes early.